blogdog
Humanity on the Precipice; Reverse the Depopulation Agenda/Or face Extermination level Genocide. The "Elite" plan to carry out another 9/11 style mass casualty false flag terror attack, depopulate the planet with bio and chemical weapons, and imminently wage hellish global Thermonuclear War. These threats will remain indefinitely until the eugenicists, warmongers, and aggressors on the diplomatic and covert front are routed out of positions of power across the globe completely and permanently.
Saturday, June 24, 2017
Nasrallah warns against US plots



Gazans mark International Quds Day



Palestinians Protest on Al-Quds Day




Palestinians continue to suffer 70 years after displacement




Palestine: Israel Continues To Build On Private Palestinian Land



Israel launches raid on Syria in return for projectile fire: army




IDF video showing Israeli airstrikes in Syria, June 26, 2017



Why the Democratic party is doomed:
1. The Democratic establishment has vortexed the party's narrative energy into hysteria about Russia (a state with a lower GDP than South Korea). It is starkly obvious that were it not for this hysteria insurgent narratives of the type promoted by Bernie Sanders would rapidly dominate the party's base and its relationship with the public. Without the "We didn't lose, Russia won" narrative the party's elite and those who exist under its patronage would be purged for being electorally incompetent and ideologically passe. The collapse of the Democratic vote over the last eight years is at every level, city, state, Congressional and presidential. It corresponds to the domination of Democratic decision making structures by a professional service class and to a shocking decline in the health and longevity of white males, whom together with their wives, daughters, mothers and sisters comprise 63% of the US population (2010 census). Democratic campaigns have conspicuously promoted racial and sexual identity politics (for everyone but whites and males). This delineated and alienated white and male identity grievance classes, pushing these majorities into the arms of GOP dog racial and sexual dog-whistling (53% of all men voted for Trump, 53% of white women and 63% of white men according to PEW Research). Unlike other industrialized countries US male real wages wages (all ethnic groups combined) not have not increased since 1973.
2. The Trump-Russia collusion narrative is a political dead end. Despite vast resources, enormous incentives and a year of investigation, Democratic senators who have seen the classified intelligence at CIA HQ such as Senator Feinstein (as recently as March) are forced to admit that there is no evidence of collusion [
https://www.youtube.com/watch?v=0BS5amEq7Fc
]. Without collusion, we are left with the Democratic establishment blaming the public for not liking the truth about what Hillary Clinton said to Goldman Sachs and blaming their own base for not liking what they said in their own emails about about fixing the DNC primaries.
3. The Democrat establishment needs the support of the security sector and media barons to push this diversionary conspiracy agenda, so they ingratiate themselves with these two classes leading to further perceptions that the Democrats act on behalf of an entrenched power elite. Eventually, Trump or Pence will 'merge' with the security state leaving Democrats in a vulnerable position having talked up two deeply unaccountable traditionally Republican-aligned organizations, in particular, the CIA and the FBI, who will be turned against them. Other than domestic diversion and geopolitical destabilization the primary result of the Russian narrative is increased influence and funding for the security sector which is primarily GOP owned or aligned.
4. The twin result is to place the primary self-interest concerns of most Americans, class competition, freedom from crime and ill health and the empowerment of their children, into the shadows and project the Democrats as close to the DC and media elites. This has further cemented Trump's anti-establishment positioning and fettered attacks on Trump's run away embrace of robber barons, dictators and gravitas free buffoon's like the CIA's Mike Pompeo.
5. GOP/Trump has open goals everywhere: broken promises, inequality, economy, healthcare, militarization, Goldman Sachs, Saudi Arabia & cronyism, but the Democrat establishment can't kick these goals since the Russian collusion narrative has consumed all its energy and it is entangled with many of the same groups behind Trump's policies.
6. The Democratic base should move to start a new party since the party elite shows no signs that they will give up power. This can be done quickly and cheaply as a result of the internet and databases of peoples' political preferences. This reality is proven in practice with the rapid construction of the Macron, Sanders and Trump campaigns from nothing. The existing Democratic party may well have negative reputational capital, stimulating a Macron-style clean slate approach. Regardless, in the face of such a threat, the Democratic establishment will either concede control or, as in the case of Macron, be eliminated by the new structure.
Suicide bomber planning to attack Mecca's Grand Mosque blows himself up
Bomber planning to attack Mecca's Grand Mosque blows himself up
Dissident Figure Blames New Saudi Crown Prince for Mecca Suicide Blast
http://en.farsnews.com/newstext.aspx?nn=13960403001409
A prominent Saudi dissident figure took Mohammed bin Salman, the new crown prince of the country, responsible for the terrorist attack in the holy city of Mecca.
"Foiling the suicide attack in the Grand Mosque was a false-flag operation which was aimed at increasing popular support for bin Salman and covering up the developments related to bin Nayef's dethroning and its consequences," Hamza al-Hassan wrote on his webpage on Saturday.
The Saudi security forces claimed that they have foiled a terror plot targeting the Grand Mosque in the Muslim holy city of Mecca, exchanging gunfire with one of the suspects who blew himself up inside a home on Friday, the interior ministry said.
The ministry described the plot as part of "self-serving schemes managed from abroad".
Five people, including a woman, were arrested in security operations in Mecca, the Saudi-owned Al-Arabiya news website said, citing interior ministry security spokesman Mansour al-Turki.
Five security force members and six other people were injured, the report said.
Turki said police "foiled the terrorist plan that targeted the security of the Grand Mosque, pilgrims and worshippers".
Two days before the incident, Saudi King Salman replaced Crown Prince Nayef with his own son, Mohammed bin Salman, the deputy crown prince and defense minister.
According to a royal decree, Mohammed bin Salman, 31, was also named deputy prime minister, and shall maintain his post as defense minister, the official Saudi Press Agency (SPA) reported on Wednesday.
The SPA also confirmed that 31 out of 34 members of Saudi Arabia's succession committee chose Mohammed bin Salman as the crown prince.
Just days ago, the Saudi king stripped Nayef of his powers overseeing criminal investigations and designated a new public prosecution office to function directly under the king's authority.
In a similar move back in 2015, the Saudi king had appointed his nephew, then deputy crown prince Mohammed bin Nayef as the heir to the throne after removing his own half-brother Prince Muqrin bin Abdulaziz Al Saud from the position.
Under the new decree, King Salman further relieved Mohammed bin Nayef of his duties as the interior minister. He appointed Prince Abdulaziz bin Saud bin Nayef as the new interior minister and Ahmed bin Mohammed Al Salem as deputy interior minister.
Mohammed Bin Salman is already in charge of a vast portfolio as chief of the House of Saud royal court and chairman of the Council for Economic and Development Affairs, which is tasked with overhauling the country's economy.
The young prince was little known both at home and abroad before Salman became king in January 2015.
However, King Salman has significantly increased the powers of Mohammed, with observers describing the prince as the real power behind his father's throne.
The power struggle inside the House of Saud came to light earlier this year when the Saudi king began to overhaul the government and offered positions of influence to a number of family members.
In two royal decrees in April, the Saudi king named two of his other sons, Prince Abdulaziz bin Salman and Prince Khaled bin Salman, as state minister for energy affairs and ambassador to the United States, respectively.
Late April, media sources disclosed that Mohammad bin Salman has literally bribed the new US administration by paying $56m to Donald Trump.
According to reports, bin Salman is paying off the US to buy its support for finding a grip over the crown.
"Since Uncle Sam's satisfaction is the first step for the Saudi princes to get on the crown, paying off Washington seems to be a taken-for-granted fact," Rami Khalil, a reporter of Naba' news website affiliated to the Saudi dissidents wrote.
He added that since the Justice Against Sponsors of Terrorism Act (JASTA) is like a sword over the head of the al-Saud, they have no way out but to bribe the US, noting that the Yemen quagmire is also another reason for Riyadh to seek Washington's support.
Also, a prominent Yemeni analyst said earlier this month that the US has been paid several trillion dollars by Saudi Arabia to protect its crown, adding that Riyadh has recently bribed Washington's support for the Yemen war with $200bln.
"Washington has asked for more money to defend the Saudi regime and Riyadh has recently paid $200bln to the US for the costs of its support for the war in Yemen," Saleh al-Qarshi told FNA.
"This is apart from the huge amounts of money that Saudi Arabia pays to the US treasury for protecting its crown," he added.
According to al-Qarshi, former Saudi Intelligence Chief Turki al-Feisal revealed last year that his country has bought the low-profit US treasury bonds to help the US economy.
As the defense minister, Mohammed bin Salman has faced strong international criticism for the bloody military campaign he launched against neighboring Yemen in 2015 amid his rivalry with bin Nayef, the then powerful interior minister.
Saudi Arabia has been striking Yemen since March 2015 to restore power to fugitive president Mansour Hadi, a close ally of Riyadh. The Saudi-led aggression has so far killed at least 14,100 Yemenis, including hundreds of women and children.
The World Health Organization (WHO) in Yemen also announced that more than a thousand Yemenis have died of cholera since April 2017 as Saudi Arabia's deadly campaign prevented the patients from travelling abroad for treatment and blocked the entry of medicine into the war-torn country, continues hitting residential areas across Yemen.
Despite Riyadh's claims that it is bombing the positions of the Ansarullah fighters, Saudi bombers are flattening residential areas and civilian infrastructures.
According to several reports, the Saudi-led air campaign against Yemen has drove the impoverished country towards humanitarian disaster.
Nearly 3.3 million Yemeni people, including 2.1 million children, are currently suffering from acute malnutrition. The Al-Saud aggression has also taken a heavy toll on the country's facilities and infrastructure, destroying many hospitals, schools, and factories.
The WHO now classifies Yemen as one of the worst humanitarian emergencies in the world alongside Syria, South Sudan, Nigeria and Iraq.
Qatar says list under review, but Arab states' demands not actionable
'Stripped of winning aces': Gulf states issue list of demands to Qatar, want Al Jazeera closed
DOHA has 10 days to, RESPECT the "list of demands"!
What are the conditions demanded by Saudis?
Saudi-led demands not 'reasonable or actionable'- Qatar
David Hearst on Saudi / UAE block demands of Qatar incl closure of Al Jazeera
Saudi Arabia too 'cowardly' for war on Iran – Hezbollah Secretary General
Iran: Saudi Arabia Loser of Anti-Iran Dangerous Game
http://en.farsnews.com/newstext.aspx?nn=13960403001706
Iranian Deputy Foreign Minister Hossein Jaberi Ansari underlined that the Saudi government is supporting terrorists and extremists, and said that the Riyadh government will be the ultimate loser of the game it has started.
"Saudis have run a dangerous game and will eventually be its losers," Jaberi Ansari said on Saturday.
Jaberi Ansari's remarks came in reaction to the recent remarks made by Saudi Crown Prince Mohammad bin Salman and Saudi Foreign Minister Adel Jubeir.
The Iranian deputy foreign minister reiterated that the coincidence of Saudi officials' statements with terrorist attacks in Tehran earlier in June is meaningful.
The Saudi crown prince had claimed they would take war to Iran and the Saudi foreign minister said they needed to punish Iran.
"We have information that shows the Saudis have had relations and contacts with the anti-Islamic-Revolution groups in the region. The game they started will cause big strategic problems for them."
He underlined that Saudi Arabia has been supporting terrorists and trying to export terrorist ideas, and with its recent actions, Riyadh tried to distract attentions, he said.
In relevant remarks on Monday, Senior Advisor to the Iranian Parliament Speaker Hossein Amir Abdollahian underlined the role played by Saudi Arabia in the recent terrorist attacks in Tehran on June 7.
"The recent deadly terror attacks in Tehran were carried out on request of Saudi Arabia's security and spy services," Amir Abdollahian said.
He reiterated that the existing documents are proof of the US and Saudi Arabia's continued support for terrorist groups in the region and the world, and said, "Their strategy and policy is to draw out regional crises in order to carry out their own agendas such as arms sales."
After the attacks, Iran's Foreign Minister Mohammad Javad Zarif said that his country had obtained intelligence showing that Saudi Arabia was "actively" propping up terrorist groups along Iranian eastern and western borders.
Riyadh has severed its diplomatic relations with Iran. The Tehran attacks came hot on the heels of specially adversarial comments and threats by high-ranking Saudi authorities.
Last month, Mohammed bin Salman said Saudi Arabia would work to move "the battle" to Iran.
Also, on June 6, Saudi Foreign Minister Adel al-Jubeir said Iran had to be "punished" for what he called "its interference in the region." The Tehran attacks happened less than a day later.
On June 7, gunmen mounted almost simultaneous assaults on Iran's Parliament and the Mausoleum of the late Founder of the Islamic Republic Imam Khomeini, which killed 18 people and injured 50 more. The ISIL terrorist group claimed responsibility for the assaults. Iran has arrested dozens of terrorists since the Tehran attacks.
Yemen - Resistance forces destroy Saudi military vehicles - 23 June 2017
Cholera cases in Yemen may rise up to 300,000 - UN
Scott Adams: Donald Trump is our funniest president ever, it is sign of intelligence!



Trump says he used 'tapes' tweet to keep Comey honest




Krauthammer: 'Pure Rubbish' to Say President Trump's Tapes Tweet Was Witness Intimidation





Donald Trump: Mueller-Comey Relationship "VERY BOTHERSOME"



Dems Trapped by Their Russia Conspiracy




Scott Adams talks about Russia and why it doesn't matter




Illegal Death Threats And A Deep State Coup D'etat Are Rampant America



Trump Cuts Funding to Life After Hate, Redirects Funds to Combating Islamofascism



Syrian army reportedly retakes part of Dayr al-Zawr from Daesh
24.06.2017 | The army Air Force dealt heavy blows to dens and supply routes of ISIS terrorists to the east of Sukhna city in the eastern countryside of Homs, killing many of the terrorists and destroying machinegun-equipped vehicles of their own, according to a military source.
23.06.2017 | Army and Armed Forces units, in cooperation with allies, established control over Arak gas station 6 km northeast of Arak village along with 4 vantage points 3 km northeast of the village, a military source stated on Friday evening.
Earlier, the source said that an army unit clashed with an ISIS terrorist group that was trying to infiltrate from the direction of Jabbab Hamad village towards one of the military points east of Umm al-Tababeer village in the eastern countryside of Homs, a military source said. The source added that the clashes ended up with eliminating all members of the terrorist group and destroying the weapons and ammunition were in their possession. According to the source, army units also thwarted an attack by Jabhat al-Nusra terrorist groups on a number of military points from the direction of Jawalak-al-Mahatta-Sensil in the eastern countryside of Homs, eliminating a number of terrorists and destroying their weapons and ammunition.
Syrian Army Thwarts US Plan to Access Deir Ezzur
The Syrian Army troops continued their advances against ISIL in Raqqa and Deir Ezzur provinces and managed to take control of a strategic town, blocking the path of the US and its affiliated militants to Deir Ezzur.
The army men captured the key town of al-Rasafeh West of Raqqa province and closed off the US planned move to Deir Ezzur city through Western Raqqa.
In the meantime, the army men closed off the Southern entrance of Raqqa city to ISIL by capturing al-Rasafeh.
Field sources said that recent advances of the army soldiers have blocked the US-backed Kurdish Syrian Democratic Forces path to approach Deir Ezzur.
Ali Maqsoud, a Syrian military expert said al-Rasafeh that is located West of Deir Ezzur and South of Raqqa is now under the control of the Syrian army, "so all US plans to access Deir Ezzur are null and void now".
Earlier reports said that the army men continued their operation from borders of Syria with Iraq and managed to take control over Wadi (desert) al-Lo'weiziyeh and advanced tens of kilometers along the border, seizing control of al-Washash region, Wadi al-Wa'ar and al-Wa'ar dam.
A military source, meantime, reported that the army soldiers have entered Deir Ezzur province from its Southeastern part for the first time in the last five years, adding that the pro-government forces are only 125km away from Albu Kamal.
The Syrian Arab Army's troops continue to grab more territories East of the ancient city of Palmyra, as part of a large-scale offensive to reach the embattled city of Deir ez zor... Backed by paramilitary fighters the Syrian Arab Army regained control of Al-Hail GAS-field, located some 14 k.m² to the East of the strategic Arak area.Thus reducing the distance to the Isis-controlled Al-Sukhnah to 20 k.m²... Al-Sukhnah, located deep in the Syrian Desert serves as the Terror groups major bastion en route to the Eastern city of Deir ez zor... Meanwhile, the Syrian Army expanded its control around T-3 Pumping station by securing 7 k.m² of land to the East...
The Syrian Arab Army launched an important offensive in the Western countryside of Al-Raqqah Governorate, targeting the Islamic State last positions along the "Ithriya-Raqqa" highway... Led by their elite «Tiger Forces» the Syrian Army attacked the so-called Islamic State's positions along "Ithriya-Raqqa" highway inflicting heavy damage on the Terrorist groups defenses, and the Syrian Army attempting to connect the Ithriya-Raqqa highway from the Town of Resafa in Western Al-Raqqah to Ithriya in East Hama... The Syrian Army «Tiger Forces» has liberate about 20 k.m² of the Road... According to Pro-Government sources,the Syrian Army have advanced on Bir Abu Alaj, South of Khirbat Zidan at the "Ithriya-Raqqa" Road... If the Syrian Army is successful, they will have the Islamic State surrounded from 3 different flanks in the khansser Plain...
Clashes continue in many Raqqa City districts
Fierce clashes between ISIS and SDF continue in Raqqa
Possibility Rises for US-Russia Confrontation in Syria
A Russian newspaper warned that the US doesn't need peace in the Middle-East, adding that the possibility of confrontation between Moscow and Washington in Syria has increased.
Geopolitica newspaper quoted Russian analyst Olga Sokhariva as saying that as Moscow's military achievements in Syria increase, Washington shows more tendency to keep the ISIL powerful in the war-torn Arab country.
The analyst added that opposition groups, including the Free Syrian Army (FSA) and the Syrian Democratic Forces (SDF), apparently have the same goal in fighting against the ISIL but this is not the reality.
She referred to the ISIL forces' cooperation with the US and the SDF's collaboration with the terrorists to leave Raqqa and move to Badiyeh (desert) region in Syria through a safe corridor, and said Washington wants to weaken the Syrian army forces in their fight against the ISIL.
The analyst said that a fully similar situation also prevails along Syria's Southern borders where the US-backed and controlled FSA is fighting against the Syrian army without any confrontation against the ISIL. In addition, the US warplanes target the government forces under the pretext of supporting their own positions.
She added that the US and its allies pave the ground for the establishment of ISIL terrorists' colony in new regions without efforts to annihilate them to weaken the government forces in Syria's Badiyeh and Iraq's al-Anbar regions.
The analyst concluded that the US doesn't want peace in the Middle-East and the current situation will lead to armed conflicts between Russia and the US in the Syrian territories.
Eastern Ghouta: SAA offensive in Ein Tarma | 23.06.2017
Battling on: SAA retakes Ayn Tarma valley from Faylaq Al-Rahman militants
Syrian troops retake the Ayn Tarma valley in battle for east Damascus
The militants forces in the Ayn Tarma Valley and nearby Town are in serious trouble as the Syrian Arab Army's Republican Guard units rapidly advance through the enemy defenses... The Syrian Arab Army's 105th Brigade of the Republican Guard resumed their large-scale offensive in Ayn Tarma, capturing more than 90 percent of the Ayn Tarma Valley after fierce clashes with Faylaq Al-Rahman militants... The Syrian Arab Army captured several sites in the Southern part of the Town, including the Driving school, Al-Jisr Neighbourhood, and a number of nearby buildings... As a result of their advance the Syrian Army is now fighting Faylaq Al-Rahman, near the strategic Al-Khir Market, and Ayn Tarma Bus station...
Quneitra: SAA repelled a maojor attack of Jabhat al-Nusra near Baas city
US Army Preparing to Occupy Large Part of Syria
A Russian military analyst pointed to the reinvigoration of the US Army forces in Southern Syria, adding that Washington is planning to disintegrate Syria and occupy more lands in the war-hit country.
"Now that the ISIL is on the verge of full collapse and has only small parts under its hold in Raqqa and Mosul cities, the Pentagon has taken the opportunity and increased its forces in Syria to seize control of ISIL's lost lands," Andrey Kushkin said.
"The move, is exactly the one that happened in World War II. The US army delayed in opening the second front and then opened it after disintegration of territories was possible, that is why Washington has increased its forces to disintegrate the country and bring large parts of it under its control," Kushkin added.
He further added that the US, meantime, has deployed High Mobility Artillery Rocket System (HIMARS) in Southern Syria in order to cover vast areas of land in the region, adding that the US decision to deploy the missile systems is a clear warning to the Damascus government.
Kushkin went on to say that the US will not hesitate to use the HIMARS to show its power and underline its objectives in Syria.
He underscored that the US is serious to turn Syria into a new Afghanistan or Iraq.
Last week, Russian Foreign Minister Sergei Lavrov, commenting on the US military moves, pointed to the near absence of ISIL or other terrorist groups in the vicinity of the HIMARS' staging area.
Earlier this month, the United States transferred two HIMARS multiple-launch rocket systems from Jordan. The systems were deployed at the US special operations forces base near al-Tanf located 11 miles from the Jordanian border, Sputnik reported.
Lavrov said the Russian military was analyzing the US deployment of artillery systems in Southern Syria where terrorist groups were said to be virtually absent.
"The Russian military is naturally analyzing everything that is happening in this country, including taking into account the channel that we have with the US to prevent unintentional incidents," Lavrov added.
"In this area, there are practically no Daesh (ISIL or ISIS) units and the deployment there of such serious weapons, which are not particularly suitable to combat Daesh… will not ensure the stability of communication channels between government and pro-government forces in Syria and their partners in neighboring Iraq," he stressed.
US violates UN Charter with its war of aggression on Syria: Analyst
Aerial view of Mosul's devastated Old City and ruins of Great Mosque of al-Nuri
Farsnews
Russia Targets US Spying Plane over Syrian Waters
Syrian Army Inches Closer to ISIL's Defense Lines in Deir Ezzur
Iraq: ISIL Distributing Leaflets over Fate of Al-Baghdadi
Syrian Army Thwarts US Plan to Access Deir Ezzur
Possibility Rises for US-Russia Confrontation in Syria
Terrorists Pinned down behind Defense Lines in Deir Ezzur
US Spy Plane Spotted Flying over Russian Fleet in Syrian Waters
Saddam's Ex-Officers Likely to Replace Al-Baghdadi
American Today: "It HAS Come To Blood" (And Why JFK REALLY Had To Die!)
"History has been stolen from us and replaced with guilt inducing lies."
Stefan Molyneux
, Irish-Canadian commentator, advocate for a non-violent stateless society and supporter of President Donald Trump
Special Report from Sister Ciara
On 12 February 1964, barely three months after
President John F. Kennedy
was assassinated (on 22 November 1963), a movie premiered in Washington D.C. titled "
Seven Days In May
" that depicted a military-political cabal's planned take-over of the United States government in reaction to the president's negotiation of a disarmament treaty with the Soviet Union.
Though it wasn't unusual for a movie to be premiered outside of Hollywood, never before had one been premiered in Washington D.C.—and with this movie containing such explosive political content, while all of America was still in mourning for its just fallen leader, it's worth noting that in attendance for this premier were some of Hollywood's biggest movie stars who mingled with the most powerful people in the United States government.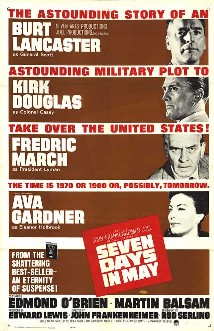 Among the Hollywood elites at this primer was this movies screenwriter
Rod Serling
—known the world over for his 1959-1964 ground breaking television series he created and produced titled "
The Twilight Zone
"—and whose life was forever altered due to the horrors he experienced as a US Army soldier during World War II, and that wherein
he took part in some of the most bloodied and horrific battles this conflict had
.
The most definitive biography written about Rod Serling was the
1992 book
titled "
Serling: The Rise and Twilight of Television's Last Angry Man
" written by the American historian and author
Gordon F. Sander
—and that aside from being nominated for a Pulitzer Prize, was described by The Museum of Television and Radio as being "
one of the 10 best books ever written about television
".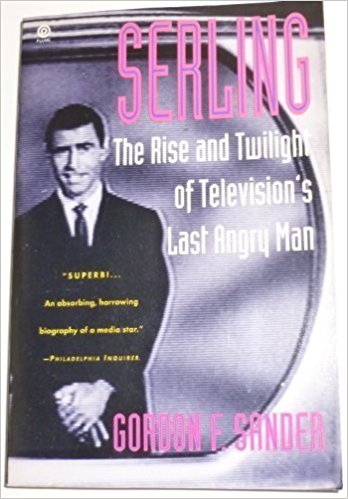 In this most definitive biography about Rod Serling's life, we learn that within days of President John F. Kennedy's assassination, the United States Information Agency (an organization very much under the control of the CIA) commissioned him to produce a documentary for international distribution about President Lyndon B. Johnson, who became America's new leader upon JFK's death—and that Rod Serling accepted the contract for and afterwards President Johnson sent him his "profound thanks" for his work.
As to why Rod Serling had an affinity for President Johnson was based on the knowledge he gained from the writers of the
"Seven Days In May" book
while he was writing the screenplay for the movie—and who were
Charles W. Bailey
and
Fletcher Knebel
.
Both Charles Bailey and Fletcher Knebel were long time hardnosed American investigative journalists from the "old school" who held no political allegiances, never stopped looking for the truth, and President Kennedy himself describing Fletcher Knebel in particular as being "
Washington's most widely read and widely plagiarized commentator
".
Something happened, though, with both Charles Bailey and Fletcher Knebel in late 1961 that caused them to collaborate on writing "Seven Days In May", and having it published in 1962—and that they left a "clue" about with their naming the fictional president being overthrown as
Jordan Lyman
—and that everyone knew was a "secret" calling out of
one of the most feared men the US
has ever known,
General Lyman Lemnitzer
.
In June,1993,
Professor James Galbraith
, the son of President Kennedy's most trusted strategic advisor,
John Kenneth Galbraith
, discovered a declassified memo that fully explained the fears of Charles Bailey, Fletcher Knebel and Rod Serling—and though he immediately brought it to the attention of the American public, his article received virtually no attention in the US propaganda media.
And
here in its entirety
is the chilling document discovered by Professor Galbraith about what President Kennedy, General Lemnitzer, CIA Director Allen Dulles had planned for late 1963—and that only by JFK's assassination appears to have been stopped:
TOP SECRET
EYES ONLY
Notes on National Security Council Meeting
July 20, 1961
General Hickey, Chairman of the Net Evaluation Subcommittee, presented the annual report of his group. General Lemnitzer stated that the assumption of this year's study was a surprise attack in late 1963, preceded by a period of heightened tensions.
After the presentation by General Hickey and by the various members of the Subcommittee, the President asked if there had ever been made an assessment of damage results to the U.S.S.R which would be incurred by a preemptive attack. General Lemnitzer stated that such studies had been made and that he would bring them over and discuss them personally with the President. In recalling General Hickey's opening statement that these studies have been made since 1957, the President asked for an appraisal of the trend in the effectiveness of the attack. General Lemnitzer replied that he would also discuss this with the President.
Since the basic assumption of this year's presentation was an attack in late 1963, the President asked about probable effects in the winter of 1962. Mr. Dulles observed that the attack would be much less effective since there would be considerably fewer missiles involved. General Lemnitzer added a word of caution about accepting the precise findings of the Committee since these findings were based upon certain assumptions which themselves might not be valid.
The President posed the question as to the period of time necessary for citizens to remain in shelters following an attack. A member of the Subcommittee replied that no specific period of time could be cited due to the variables involved, but generally speaking, a period of two weeks should be expected.
The President directed that no member in attendance at the meeting disclose even the subject of the meeting.
Declassified: June, 1993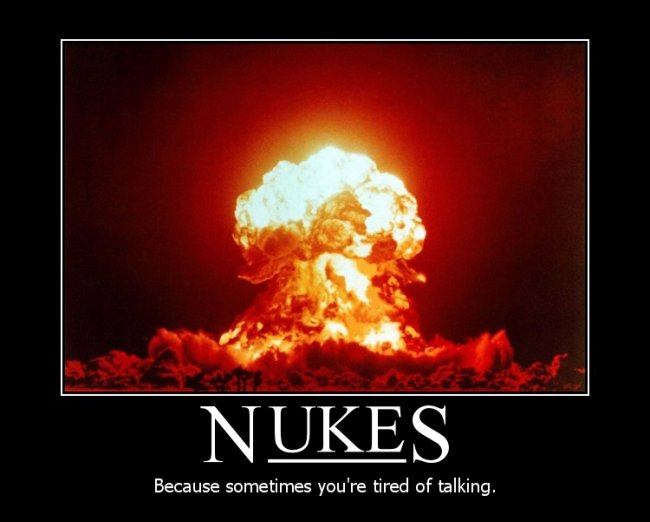 I would like to tell you that madmen such as this who actually planned for nuclear Armageddon are no longer among us, but I can't—because
the same exact "forces" that were planning this atrocity against humanity back then, are still at it
!
The most astounding evidence of this are the now hourly propaganda attacks against President Trump who is attempting feverishly to stop World War III—with these war propagandists falsely proclaiming that he's under criminal investigation when nothing could be further from the truth.
And here's the TRUTH you're not being told:
In the aftermath of the early 1970's "Watergate Scandal" that forced the resignation of President Richard Nixon, the US Supreme Court, the US Department of Justice, and nearly every top legal scholar in America, complied
one of the most extensive legal documents every created
to answer one question, "could a sitting US president be indicted for a crime?"—and
here's what they concluded
:
"The indictment or criminal prosecution of a sitting President would unconstitutionally undermine the capacity of the executive branch to perform its constitutionally assigned functions."
Not just can't a sitting US president be indicted for a crime, he can't even be investigated either—leading any logical person to wonder what exactly is going on then.
Well, the answer to that is as simple to understand now as it's been all throughout history—"
The first casualty of war is truth
".
And what the vast majority of you reading these words are failing to understand at your peril is that THIS IS WAR—and you're a combatant in it whether you like it or not!
Remember, the true and only agenda of those ruling over you is to make you a slave—and if you want to know how far down this road the Western world is, you need only read the "five features" of a slave plantation as outlined by Kenneth M. Stampp in his book "
The Peculiar Institution: Slavery in the Ante-Bellum South
", and that are:
1.Broken down and dilapidated and unsafe housing.
2.Broken families.
3.A high degree of violence required in order to hold the place together.
4.Everybody gets a basic provision, but nobody gets ahead.
5.Nihilism and despair. This is an intergenerational, ongoing, lasting way of life.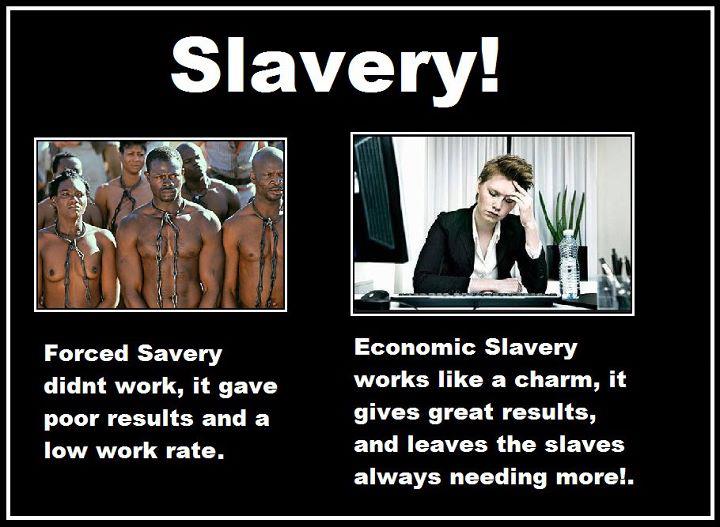 These "five features" of slavery describe every single inner city and rural area in both the US and Europe—and that year by year, begins subsuming more and more human beings into its evil clutches—with barely anyone knowing what's happening to them.
As to why so many millions of human beings are able to be led into slavery has long been known—such as a recent study from the University of Osnabrück, Germany, that found
our brains prefer "fake vision" - invented to fill in blind spots - to reality
—and that has been perfected by leftists in the United States who
classify their unwitting slaves as "victems" and set them fighting against one another
.
And now, IT HAS COME TO BLOOD!
But I'm here to give you HOPE today! But a HOPE that only comes with your first realizing and awakening to the fact that you've been lied to your whole life.
Not by us though, you know this, and every single hour of every single day we (and others like us) do everything in our power to not only awaken you, but keep you awake too!
It's getting harder though, much harder—and just this past week, the US Supreme Court, in two rulings, ruled that
the corporations that own and control social media are going to be squarely in charge of shaping the norms of speech
!
And these corporations who now control all speech will, also, do more to destroy those of us telling you the truth—and that only YOU can prevent from happening!
By your giving what you can TODAY, you can stand up not only for those of us telling you the truth; you can stand up for yourself too!
I, for one, believe you're worth it—do you?
With God,
Sister Ciara
Dublin, Ireland 24 June 2017